Medical Services
Al Maghlouth Medical Dispensary believes that as our patient, your total health needs are primary concern. We place your physical, emotional and spiritual needs – your total wellness – at the very core of our operation.
We provide exceptional health care service through integrated specialty clinics that harness the combined expertise of various medical disciplines in the treatment of particular conditions. Each clinic is operated by highly qualified physicians, nurses and technical and management staff.
We consistently strive to practice a Total Quality Approach to health care and we place much effort on continuously improving our method and services.
Vision
To deliver optimum level of intelligence and integrated high quality health care for patients.
Mission
Our dispensary is committed to deliver high quality safe integrated health care that response to the needs of patients in the community and their changes with the heart and values true to our religious belief and values (standards).
Core Values
• Excellence
• Professionalism
• Evidence based practice and innovation
• Customer Focus
• Team work, edification and integrity
• Open communication
• Respect
Service we offer
OB-Gynecology Specialty Clinic
Al Maghlouth Medical Dispensary offers OB-Gyne services for families especially for women that need special treatment for their pregnancy and non pregnant stage. The practicing OB/Gyne has a wide knowledge for the entire scope of clinical pathology involving female reproductive organs, and to provide care for both pregnant and non pregnant patients. The clinic is also using a high quality machines to provide an accurate result of treatment.
Dental Clinics
Al Maghlouth Medical Dispensary has 3 dental clinics to cater all the patients that need dental care. Our specialists would not only help you to treat your dental problem but would also guide you on your dental hygiene with our high quality dental machines.
Dermatology Clinic
Our Dispensary is also offering a various Dermatology Procedures to address the skin problems/diseases of many people. These are done by our competent dermatologist. The services include hair removal for men and women using high quality and latest laser machine such as Gentle lose or hair implant with Dermo Jet Laser Machine. The clinic also offers a service of IPG procedure similar to a liposuction done by a big derma company.
Ophthalmology Clinic
The eye clinic of Al Maghlouth Dispensary looks forward to providing you with comprehensive eye care. We diagnose and treat patients with all types of ocular disorders. Our competent specialists also guide you in correcting some eye problems and in making a high quality, but affordable glasses.
Pediatric Clinic
The staff of Al Maghlouth Dispensary, Pediatric clinic cares about our patient and patient's parents and the obligation that you have in raising healthy children and adolescents. A team of caring professionals is at your service under the direction of our Medical Director along with a dedicated support staff of registered nurses.
ENT Clinic
ENT clinic off Al Maghlouth Medical Dispensary is a provider of comprehensive specialty services in otology (ear) and rhinopharyngoloby ( nose, sinuses and throat). Our highly trained board-certified Doctors along with our licensed nurses uses the latest treatments and technologies to ensure the highest quality of care for patients of all ages. This department is also equipped with advance diagnostic instruments to test patients with hearing and balance disorders.
ER Department
We believe that accidents cannot be expected so we at Al Maghlouth Medical Dispensary are operating our ER department 24/7, year round, to ensure that we can serve our patients anytime of the day. ER department has board-certified GPs with wide variety of knowledge through continuous studies and experiences along with our licensed and dedicated nurses. ER department is also equipped with high quality equipments that can be used for emergency cases and for minor surgeries.
Laboratory Department
The Department of Pathology and Laboratory provides excellent diagnostic services to Al Maghlouth Medical Dispensary's Physicians and to our patients through advanced laboratory examination and evaluation. At our Laboratory, you are always assured of the highest quality services since we are equipped and staffed by dedicated pathologist and technicians. We can deliver accurate and reliable diagnoses and contribute significantly to your effective treatment and care.
Radiology Department
The Radiology department at Al Maghlouth Medical Dispensary is committed in providing quality health care through excellence in image based patient care, research and education. Our facility is equipped with high quality equipment. And our Radiologists are constantly on the cutting edge of technology, developing and introducing new techniques that result in improved patient care. This department also offers dental images services.
Insurance Services
Al Maghlouth Medical Dispensary is also accredited by various companies and insurance companies such as: NCCI, MEDGULF, SANAD, MEDNET, TRADE UNION, SAICO, ARABIAN SHIELD, AXA, BUPA,ACE, MALATH, ALLIANZE, AL SAGR, CARS, GULF UNION, GLOBE, TCS AND ALICO.
Our company is currently open and aiming to be transaction with other insurance companies to accommodate all patients within the community and from other places.
Our Sister Concerns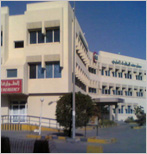 Contact Us
Head Office
P.O. Box 10375
Al-Hassa – 31982
Saudi Arabia
Tel : (03) 531-3333
Fax : (03) 531-3010
sosco5985@hotmail.com