Message from CEO
We had a modest initiation more than a decade ago with a cherished goal of contributing towards the Kingdom's industrial growth and development, which was in its nascent stage then. We always embraced challenges, constraints and countless obstacles in our stride. Our organizational philosophy was driven by the analogies of best practices, commitment, dedication, sincerity and highest ethical standards.
Our strategies, structure and systems have been focused on creating constant customer satisfaction by delivering our customers with the services, solutions and products that are qualitative and cost effective. In the quest for becoming regional, national and international business players of the industrial world, we have been tapping on the talents of our human resources, prevalence of rational decision making and forward planning in the most synchronized manner.
Our achievements, accomplishments and success are attributable to our people whose persistent hard work, unwavering commitment, invaluable contribution, tremendous faith, confidence and trust have all been instrumental for taking company to its present status.
Being the CEO of Sons of Saleh Al-Maghlough Co. Ltd. (SOS), it is a matter of tremendous pride, pleasure and privilege for me to reflect and share the achievements of our past, activities of the present and ambitious vision of the future as elaborated in our Vision and Mission.
Vision
Our Vision is to become one of the best and renowned organizations in the Kingdom of Saudi Arabia known for its quality, commitments and timely execution of undertaken projects.
Mission
To achieve our objective in a fair manner extending courtesy towards clients, employee and vendors.
Our Sister Concerns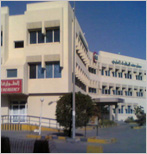 Contact Us
Head Office
P.O. Box 10375
Al-Hassa – 31982
Saudi Arabia
Tel : (03) 531-3333
Fax : (03) 531-3010
sosco5985@hotmail.com