Welcome to sons of saleh al-maghlouth co. ltd.
Our undertakings are in the fields of Civil, Mechanical, Electrical, HVAC, Instrumentation, Construction and Maintenance. We continually strive to improve our performance and to complete the project within the scheduled time, while maintaining standards of quality and safety during the execution.
Over the years, SOS roped in professional management, and has a simple, well defined Organization structure, that lends itself to the needs of the construction and maintenance sectors. Today, SOS provides contracting and support services in diverse fields.
SOS has about 900 employees, with over 100 engineers and/or equivalent personnel of various disciplines. SOS personnel have played key roles in executing various prestigious projects undertaken by us.
Our Sister Concerns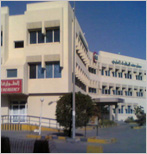 Contact Us
Head Office
P.O. Box 10375
Al-Hassa – 31982
Saudi Arabia
Tel : (03) 531-3333
Fax : (03) 531-3010
sosco5985@hotmail.com